The 9th Pfister Narrator
Dominic Inouye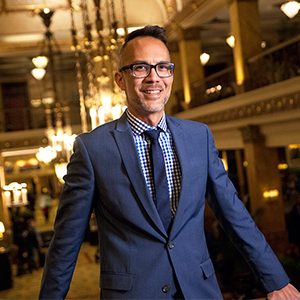 Read The Blog
As a teacher for over twenty years, Dominic Inouye has worked with everyone from elementary school students to adult learners, creative writers and physical therapists, to help them develop their reading, writing, critical thinking, and, most of all, their voices. He began his career at Marquette University, expecting to become the next Mr. Keating from Dead Poets Society, but made a surprise move to the high school classroom, where he found his home at Pius XI High School, then later at The Prairie School in Wind Point, Wisconsin, where he is completing his seventh and final year as an English teacher.
Never one to pull an old lesson plan out of a dusty file cabinet and re-use it year after year, Inouye began experimenting from the very beginning with how to integrate authentic, real-world, transformative learning into his students' study of literature and the expression of ideas. Examples include his founding of the Milwaukee Spotlight Student Film Festival, the C.L.A.S.S. program, which brings together 4th-12th graders for service learning, and the Senior Capstone program of individualized research projects. As expected, Inouye will not be bringing any dusty ideas to the Pfister--only creative celebrations of new voices.
Inouye was chosen to serve as the hotel's ninth Pfister Narrator based on his writing style, his vision for the role, and his personality.