The 9th Pfister Narrator
Dominic Inouye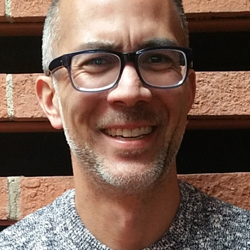 Read The Blog
We are thrilled to name Dominic Inouye our next Pfister Narrator! In this role, he will spend time in the hotel's lobby and public spaces interacting with visitors and guests and sharing their stories on The Pfister's
award-winning blog
. As narrator, Inouye will be posting blog entries at least twice each week over the course of a year and has plans to create monologues from guest conversations, monthly Pfister flipbooks as well as hold writing workshops for guests and the public.
"I am thrilled to start my journey as the next Pfister Narrator. I want the Narrator to be more than a blog writer, but a creative and celebrator voice of the people of Milwaukee, whether residents or visitors," said Inouye. "My vision is for Pfister guests to become writers and the blog to become a conversation."
A writer, speaker and teacher, Inouye has written for various websites, blogs and publications, founded academic programs, shared his experiences at academic conferences and teaches students how to read and tell stories through history, art, spoken-word and film. He cofounded the Milwaukee Spotlight Student Film Festival and has over twenty years of experience as a teacher. He has taught at Marquette University, Pius XI High School and currently teaches English at The Prairie School in Windpoint, Wis. Inouye was chosen to serve as the hotel's ninth Pfister Narrator based on his writing style, his vision for the role and personality. He was selected from a large pool of applicants by a review panel consisting of local writers, editors and representatives from the hotel. He will be replacing Jonathan West, who has been writing for the hotel since May 2015. Inouye will begin his residency as narrator on April 22, 2016.
"We are eager for Dominic to join us at the Pfister," said Tim Smith, general manager of The Pfister. "His friendly demeanor and creativity will be enjoyed by guests, the staff and the public."